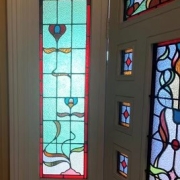 Thank you to Laurie and team from taking a broken and bent stained window  and bringing it back to a beautiful piece of art. I could not recommend Laurie and his business enough, exquisite work, attention to detail and an exceptional finish. From removal of the window to reinstall, I have been kept up to date and cannot thank the team for their artisan skill. Biggest thanks,. I'm so delighted with the results! Incredible work.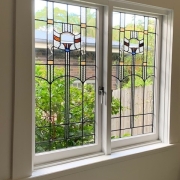 Dear Lawrence,
A huge thank you to all involved for the unbelievable job you have done matching the existing leadlight for us in Balgowlah, It absolutely finishes the room off and we could not possibly be happier with it.
All the very best, I will recommend highly should anyone need your brilliant craftsmanship.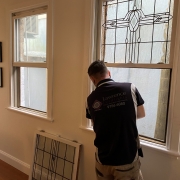 Dear Lawrence,
Just a follow up to our phone conversation yesterday. We are beyond thrilled with our new windows. They are absolutely perfect and they look like they've always been there. A true testament to your design and knowledge.
Photos attached.
Sincere thanks,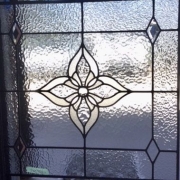 Hi Simone & Laurie,
Mitchell installed my new Leadlight Window this morning and WOW … I absolutely love the finished result.
The window is exactly what I pictured and Mitchell did a wonderful job – he was very pleasant and efficient.
Many thanks for the fabulous product and service – much appreciated.
Cheers,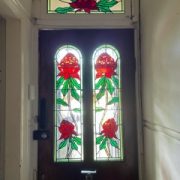 My apologies for taking so long to send this email but I wanted to let you know how absolutely delighted I am with the door panel Lawrence Leadlights recently repaired for me. It looks magnificent and I couldn't be happier. I regret I didn't get the name of the gentleman who installed it but he was so courteous, efficient and charming I would like you to pass on my appreciation. I will certainly recommend your firm to any of my friends wanting leadlight work done and sing your praises to the people who admire my door. Thank you so very much.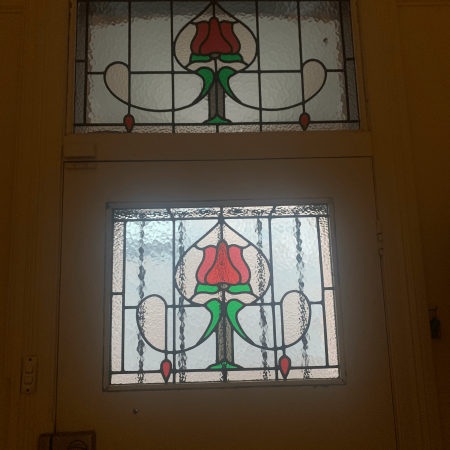 Hi Lawrence,
I just wanted to say how much I love the leadlight windows you made me. They are absolutely gorgeous and I am so happy with them.
Thanks so much.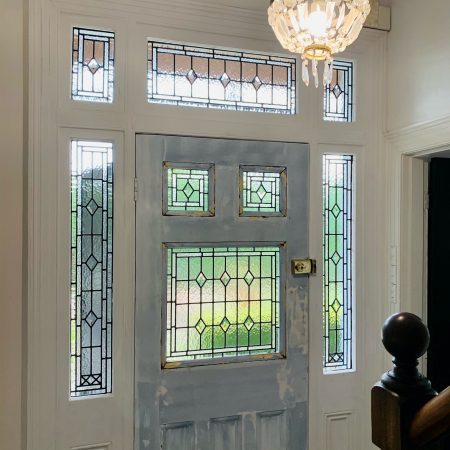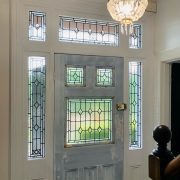 Hi Laurie
We can't thank you enough – the door and surrounds look fantastic – we are so happy with it
Thanks for everything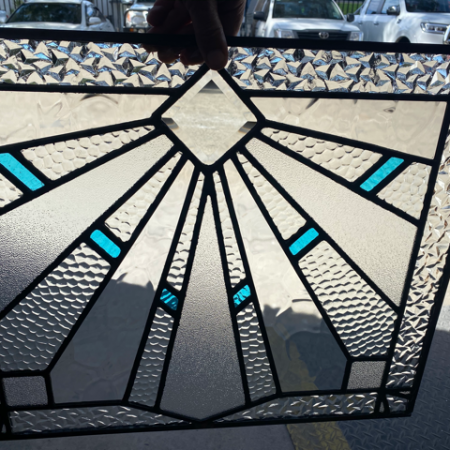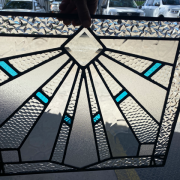 I just wanted to write this given the work you did for me at 11 Ingram Street Kensington. I was referred to Lawrence Leadlights by a relative to conduct repairs to lead lighting at my house. This testimonial wasn't prompted, and as a Commercial Manager at a 1st tier Commercial Company of 22 Years I have no hesitation to recommend Lawrence Leadlights for repairs and / or new works in what I consider to be a specialist trade. Lawrence was prompt and the quality of work undertaken was of superior quality. The work was conducted on time, and notwithstanding the boutique and the specialist trade work undertaken the quote provided was reasonable and the quality surpassed my expectations. I would have no hesitation to recommend Lawrence Leadlights Pty Limited to friends / family or in a commercial context.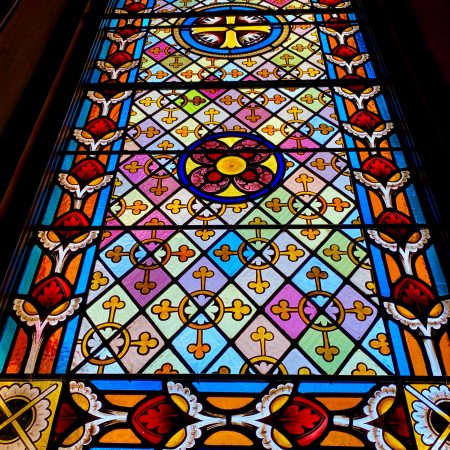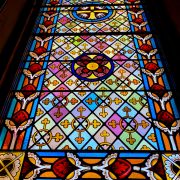 I just wanted to say thank you again for such a lovely job. You have been very  accommodating and I appreciate it. I hope the people looking at that window in 100 years appreciate too!!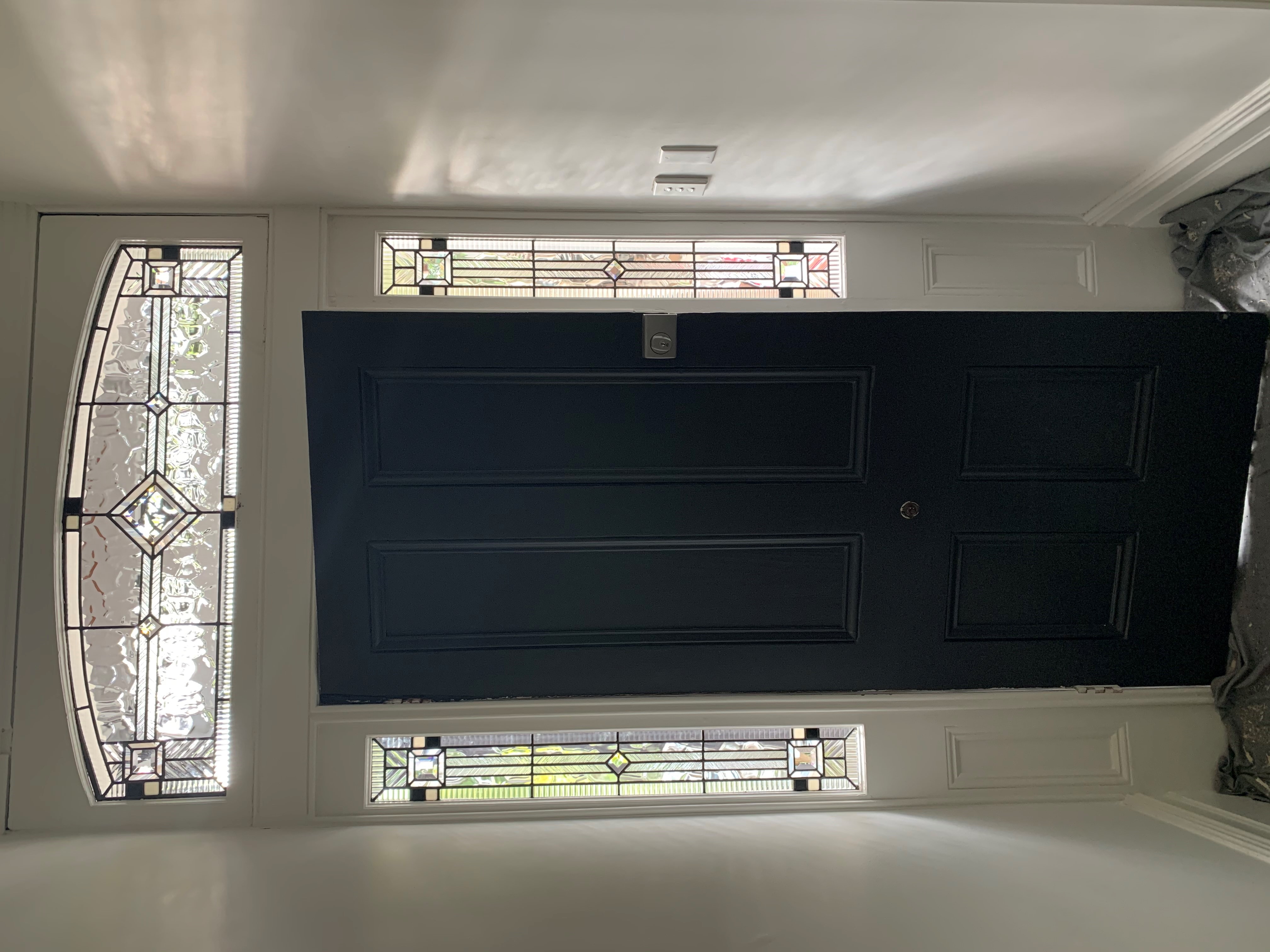 I'd like to pass on my appreciation and thanks for my stunning lead light design. My husband and I love it! It's even more beautiful than we both imagined….so thank you to you and your team.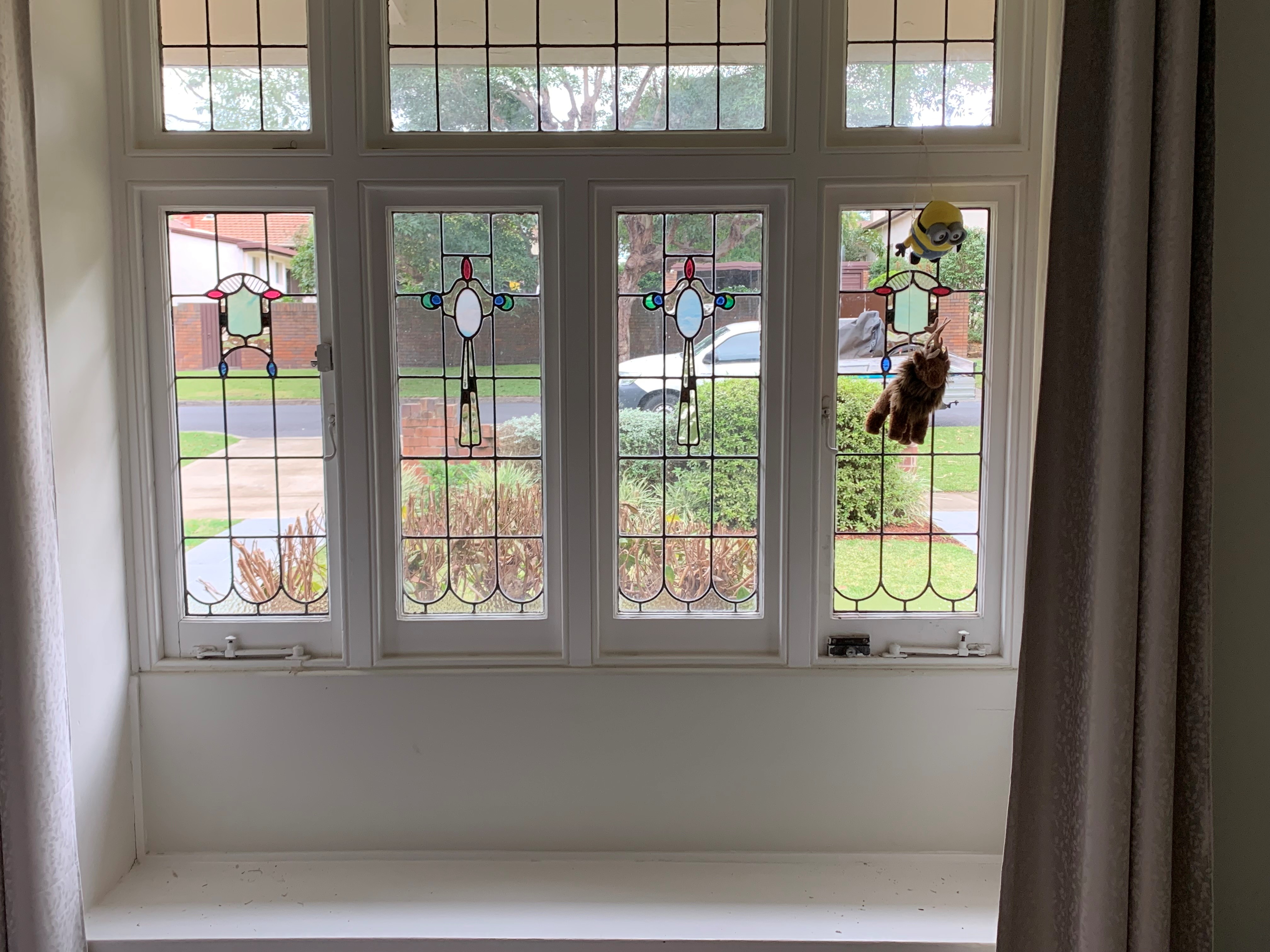 Dear Lawrence,
Thank you so much for finishing our door and our windows that look absolutely beautiful 😊 have a lovely day.

Just wanted to thank you and your team  for my beautiful leadlight. I am enjoying it every day.
Warm regards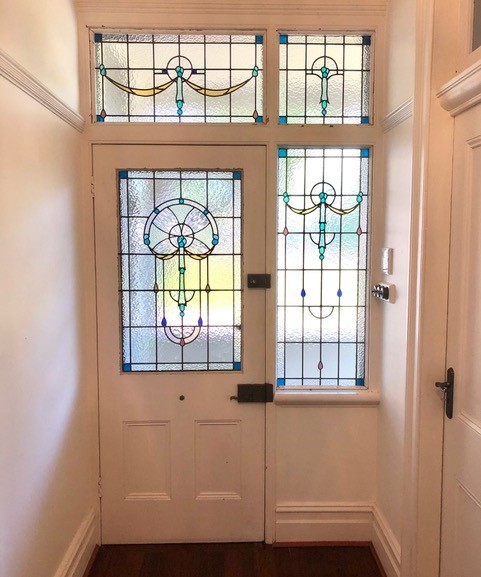 Thank you so much for the beautiful leadlight you did on our entrance door recently. We absolutely love it and are thrilled with the result!  It's wonderful to have a one off custom made piece that lights up our tired hallway. Happy to recommend your services anytime.  With thanks.
I had to let you know straight away that I love, love, love the leadlight window that Ronnie installed today.  I've already shown my next door neighbour and they are blown away by how good it looks.
Thanks for a great job.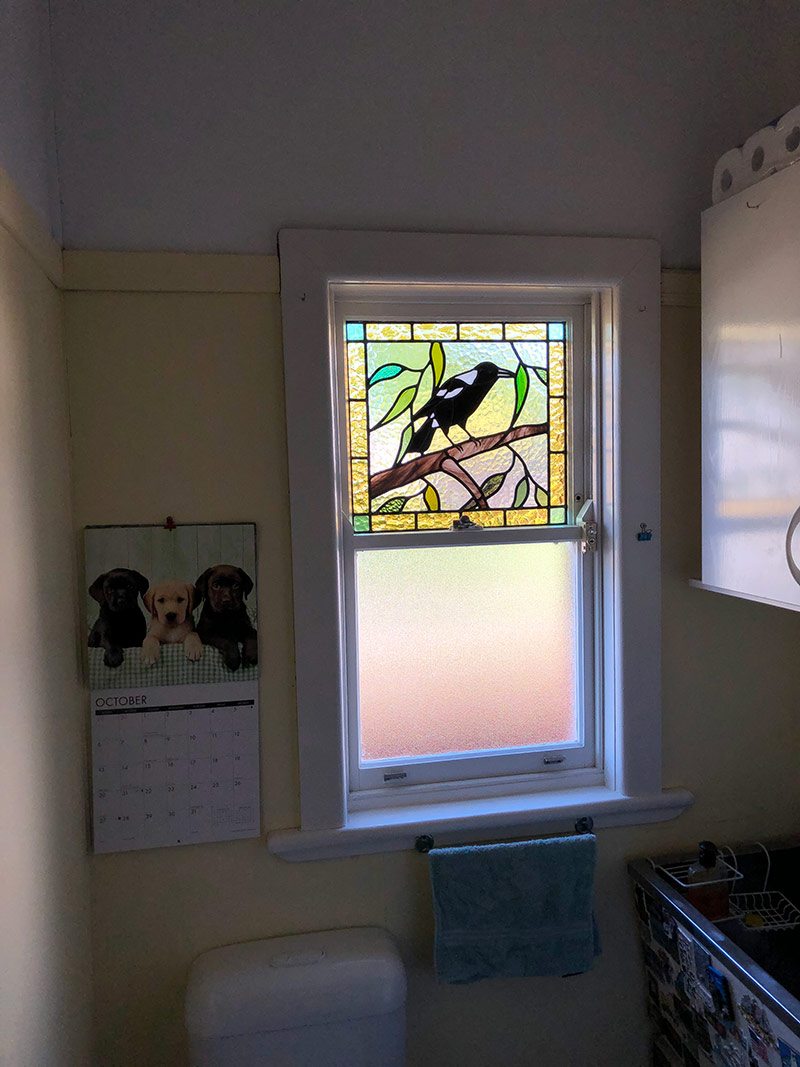 Mate. I'm blown away. It's magnificent. Thank you thank you thank you. I'll be in the good books for eternity.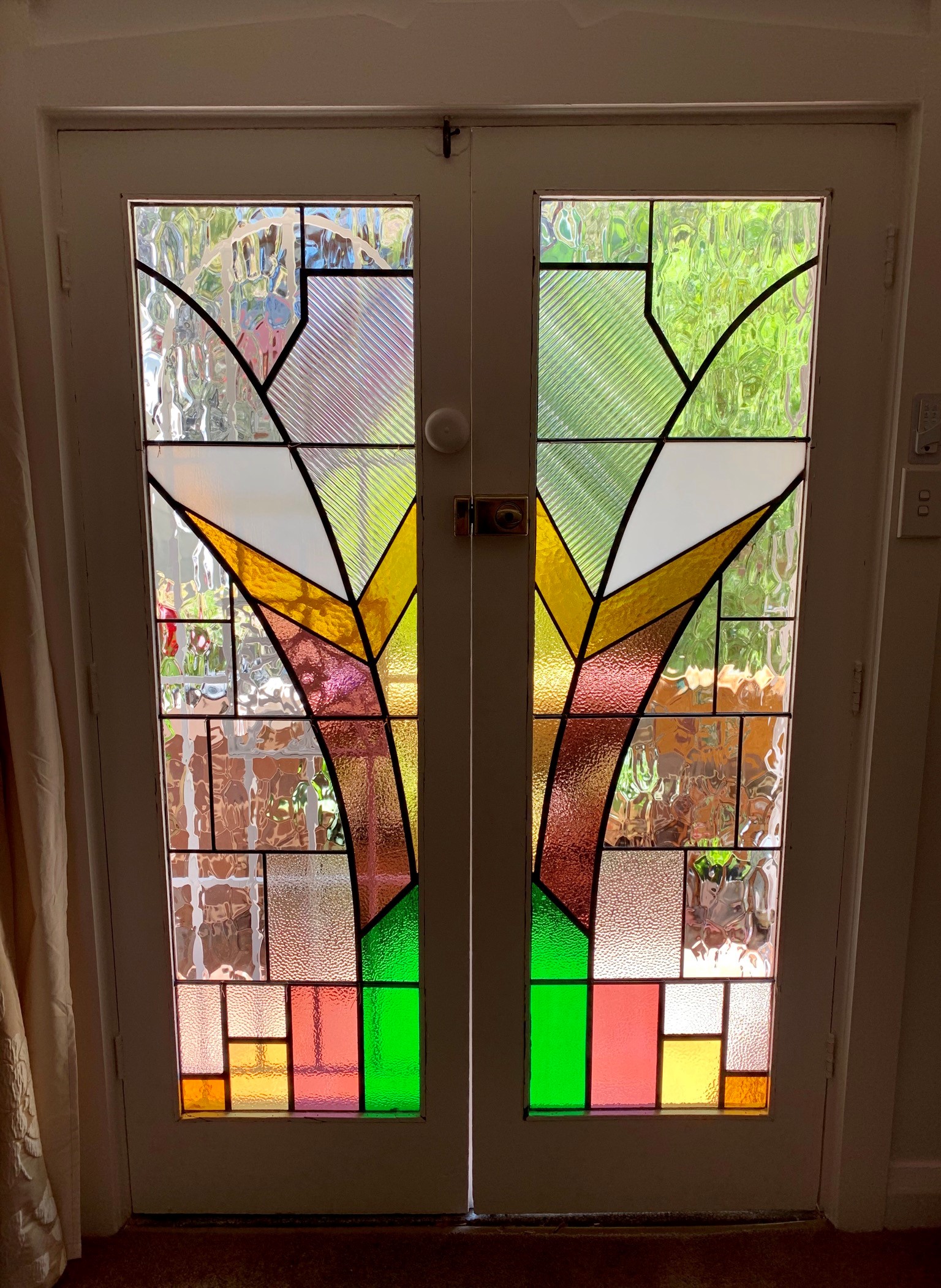 Thank you and your highly skilled colleagues for returning the doors to my apartment to their Art Deco Glory days.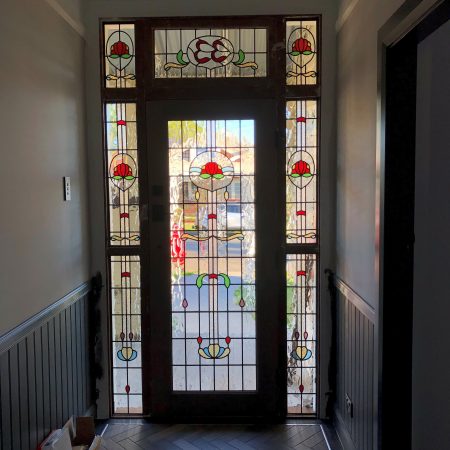 Just wanted to thank you again for the exceptional work you guys did for us. I am honestly so insanely happy with what you guys have created for us, and so grateful that you humoured me and just made my vision come to life. You guys truly are artists, and you are an absolute legend!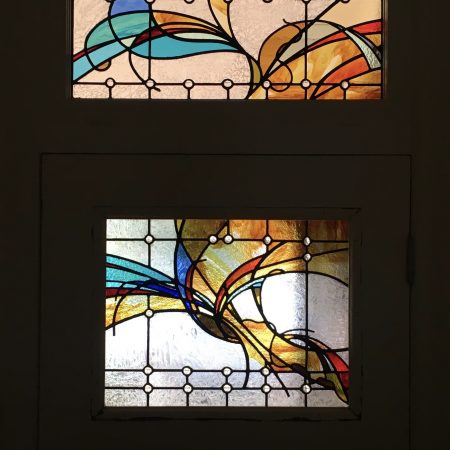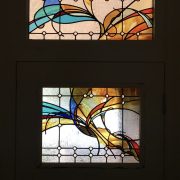 Hi Lawrence, it is absolutely beautiful. I am very happy with the result. Thank you!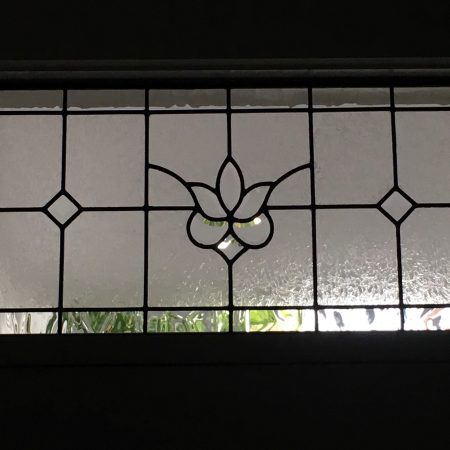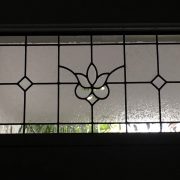 Hi Lawrence,
We went over to the house on the weekend and I just wanted to say a huge thank you for the great work you guys did with our leadlight, we love it!
Also, thank you for all your help with answering my questions and the drawings, I really appreciate it ?
Thanks again!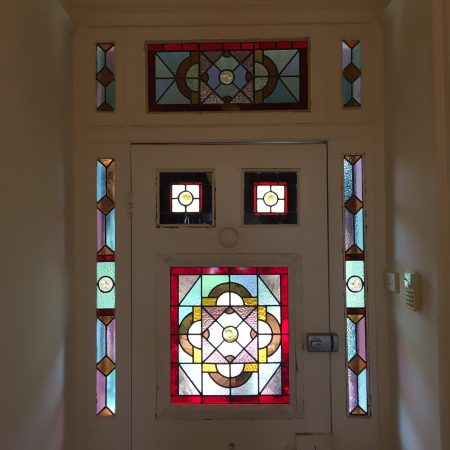 Lawrence,
So happy with my new front door and surrounds … thank you! The new panel just looks fantastic. Mitch was very pleasant and did a great job.
With much thanks,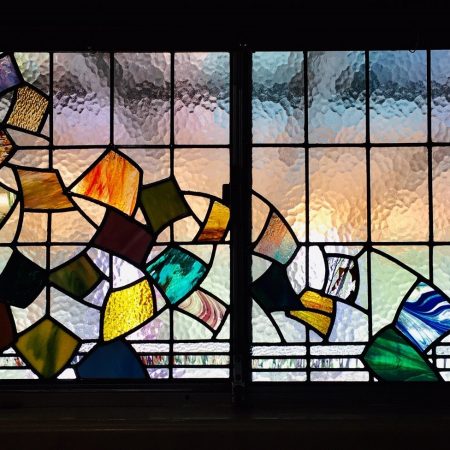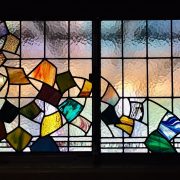 Thanks so much, we are very happy with our beautiful window.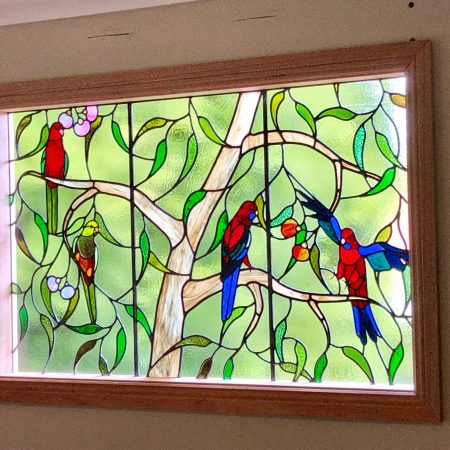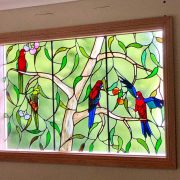 I absolutely love my Leadlight nature window. It has transformed a long, dull wall and rather dark space into an inviting area. It is a dynamic work of art that changes during the course of the day and the sunlight upon it. It is so beautiful. It also reflects my surroundings – these wild birds come to my garden. I highly recommend Lawrence and his talented team, it has been a pleasure to deal with them.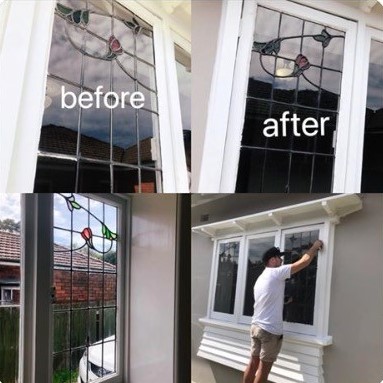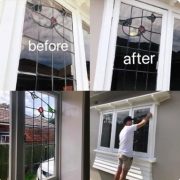 Laurie was wonderful.
He sent Mitch out to quote, and he repaired my windows whilst he was here. They were both lovely. Mitch did a great job with no fuss and tidied up afterwards
. Laurie gave us a gr
eat price. Couldn't ask for more.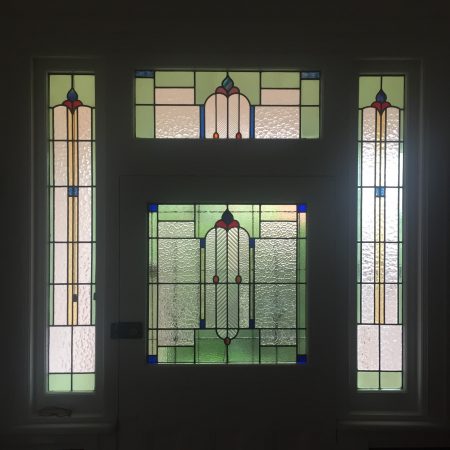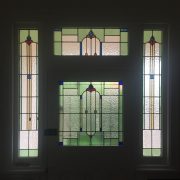 Fits perfectly and looks fabulous! Thank you and Tom and Mitch so much. The installer said it was one of the best new works he has seen. ? You guys are fantastic. Great skill. Thank you all so much ?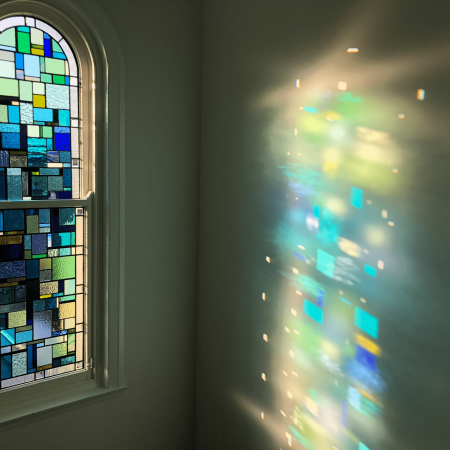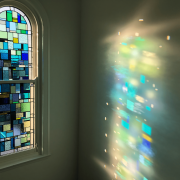 Morning Laurie – just thought I'd share this great pic with you. The window is just fabulous – thank you so much. How great are the reflections? ?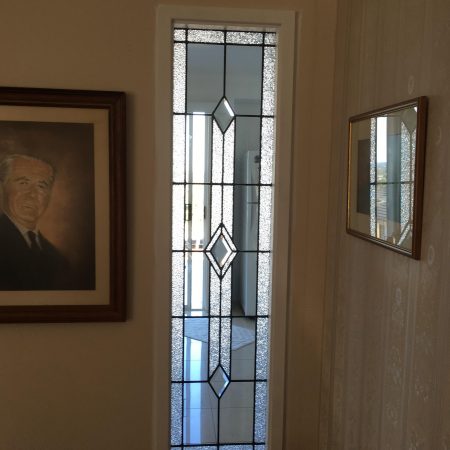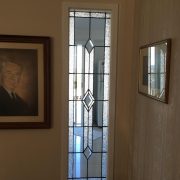 I am sooooooooooooooooooo very happy with my leadlight panel. It just finishes off the area and matches the other one perfectly. Mitchell did a very quick and efficient job of fitting it in. All the measurements were spot on.
Thank you so much and should I need more leadighting, I will come to you.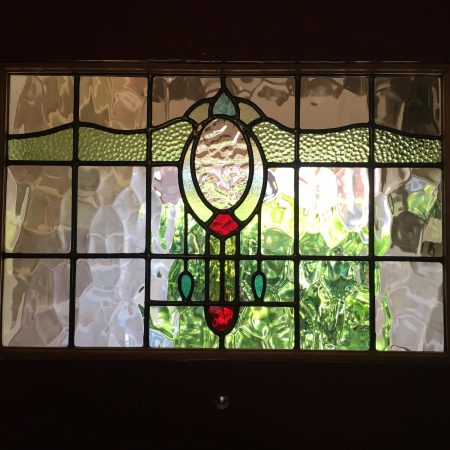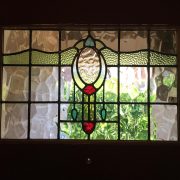 Just to let you know I love the window!  It is perfect, thank you.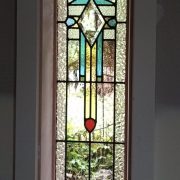 My thanks to Mitchell, Tom and you. They're bewdiful!!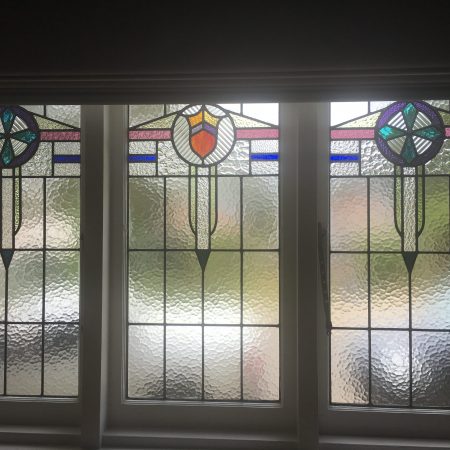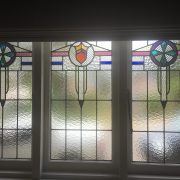 Thank you for the windows … they are AMAZING!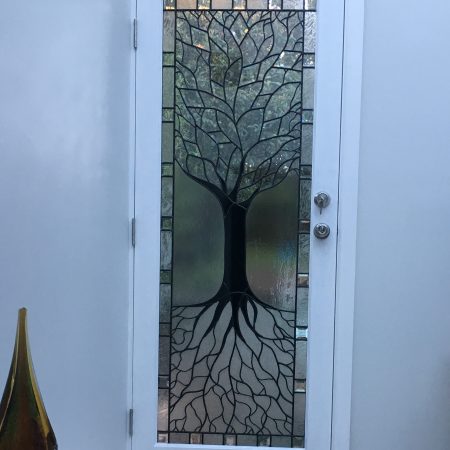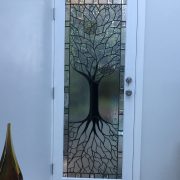 Hi Laurie! I just want to say that the tree looks absolutely fantastic!! I couldn't be happier with the result!! I can't help but think that other people would want one too!! Thank you so much for your work!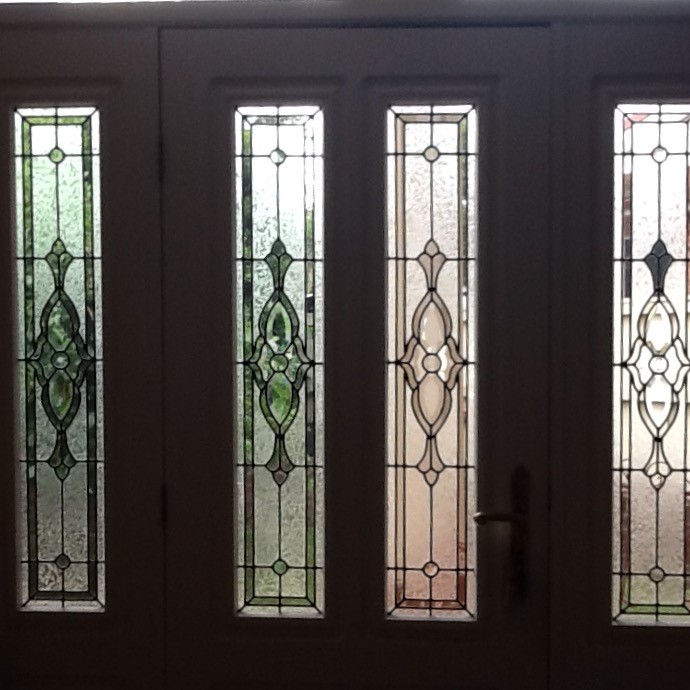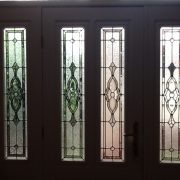 Thank you Laurie for a job well done. We must complement you on your staff, you should feel very proud to have such a well mannered, competent young man to represent your company.  It was a pleasure to have him do work in our home, a rear find in tradesman today.
Thank you kindly for arranging your jobs to
accommodate time for my husbands schedule to fit in with the repair.
It was very much appreciated.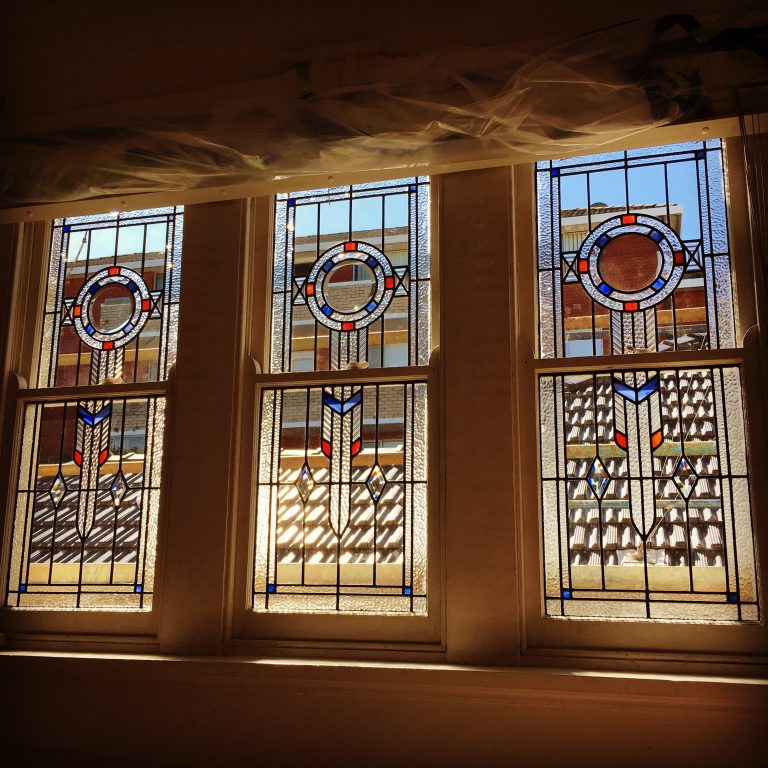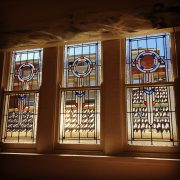 Loving my Leadlights! Reinstated original Art Deco design and matching door panel – perfect!! Beautiful job by Lawrence and team.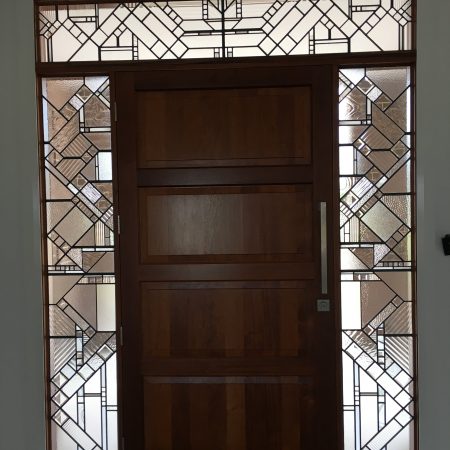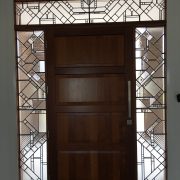 I just wanted to say a very big thank you for my leadlights. It has come just the way I wanted it, I am absolutely thrilled. Everyone who sees it for the first time says wow. Once again, thank you.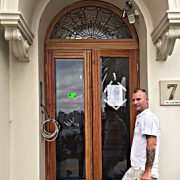 Dear Lawrence,
The lead light looks amazing, we are thrilled with your work. Thank you on behalf of everyone in Deauville, no 7 Wulworra Ave.
It has been a pleasure working with you.
All the best,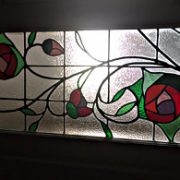 We were really very impressed with the beautiful work /repairs done to our original ledlights, dating back to around 1910. My sense is that the work will last another century.
thanks Lawrence Debono.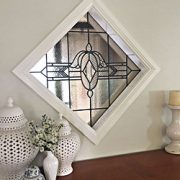 We love our Leadlights
Thank you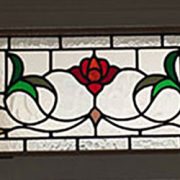 Just to say what a great job you have done. Looks even better than I imagined
Thank you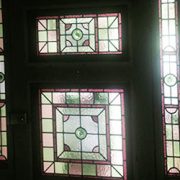 The glass is looking good tonight and brought the whole entrance back to life!
many thanks
regards
Totally in love with our leadlights!!! There's a HUGE smile on my face 🙂
Should you require any further information please do not hesitate to contact me on 0411 866 125.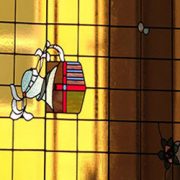 Hi Lawrence,
Thank you for doing a great job, below is a compliment from the client.
Kind regards,
Maddison Dollar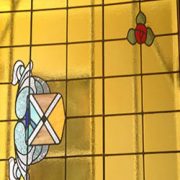 Hi Maddison,
I just wanted to thank you for organising the leadlight windows to be fixed. It was a long process but they are absolutely beautiful (and no longer a danger). Could you please also pass on my thanks to the contractor – they did a brilliant job. It makes me happy every day!
Kind regards,
We found the quality of work and service fantastic. We are very happy with the results which worked well to compliment the feel of the house. Highly recommended and a big thanks to all involved.
Cheers
the Beckett's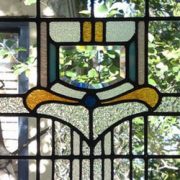 Hi Lawrence,
I just wanted to write and let you know that everyone who walks into my apartment goes "wow" when they catch sight of your leadlight fittings.
I remain thrilled with the result – thank you for your attention to detail and great craftsmanship.
I have taken the liberty of cc'ing a couple of friends who enquired after your particulars.
Best regards
Abi van Stryker
"Rea House"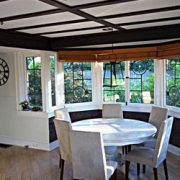 Dear Lawrie,
Thanks again for the window work.  We walked out this morning with the sun shining in and marvelled at what a change the new leadlights have made.
Regards,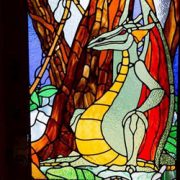 Hi Lawrence,
Just want to thank you again for the great job done on the dragon panel. He is now back in where he belongs and all in one piece.
Thanks
Just wanted to say thank you so much for organising for the window to be reinstalled today – although I have only seen a photo so far myself, all messages have been overwhelmingly delighted by how good it looks. (In fact it now rather shows up the state of some of the others!!) So many thanks for all your help on this job, for your very prompt service and fantastic craftsmanship. It has been so much appreciated.
Huge thanks again and best wishes,
My hat is off to Lawrence Leadlight for the quality work they performed for us in repairing the front doors on our dining room hutch. They performed as they said they would. On time, on budget and without fuss or any drama. I can throughly recommend their services.
Patrick and Debbie Mathews
Thank you to Laurie and the whole Team at Lawrence Leadlights for your great work and beautiful leadlights, they have completed our home, we love them.
Thank you once again.
Hi Laurie
I wanted to send you a quick email to thank you for your fantastic service. I have been incredibly impressed with all aspects of your business – your fast response to quote, your pick-up and delivery service, your craftsmanship and your price. I will be recommending you to all my friends and colleagues.
Thanks once again
Just a quick note to mention that Lawrence Leadlights did a brilliant job replacing our rebuilt window. People (me included) are always quick to criticise and whinge but when a job is done well the feedback is not so forth-coming. I would have no hesitation in recommending Lawrence Leadlights as a professional and skilled business.
Quick note to say thanks again for the beautiful work you did on our doors. The front door is absolutely stunning and I'm still enjoying looking at the glass panels above the other doors throughout the house. They make such a difference and bring in such a lot of beautiful, coloured light. I feel, thanks to you and your exquisite handiwork, as though we've taken a step towards restoring our faded old beauty back to her original state.
Many thanks
Lawrence came recommended through a friend that had used his services . I needed someone to install a specific piece of glass into an unusual area and I needed someone with experience. Lawrence is very easy to communicate with and did exactly as I asked . The glass installed is unique and looks absolutely fantastic. I will use Lawrence's services again. Highly recommended.
As I promised here finally is a copy of the pics of my wonderful leadlights in situ, all fully painted.  I couldn't be happier.  They look truly wonderful and have had many favourable comments so far.  Thank you for being so easy to deal with.  I shall happily recommend you to anyone who asks (and have already done a few times).
Thank you very much for the beautiful leadlight window repair & the attention you have given me. It is greatly appreciated.
Just a quick email to say thanks very much for the lovely repair work.  Ben did a good job today.  The windows look great. If I need any more leadlight work I'll be sure to call you.
Just a quick note to say the windows look fantastic. Thank you very much.
Regards
Hello Lawrence,
Thank you so much for a great job. I really love my new windows.
Kind regards
Hi Lawrence,
Thanks again for a great job on our leadlight windows – i just love them.
Kind Regards
Hi Lawrence,
Just wanted to let you know I am thrilled with the leadlight windows – they are beautiful and your attention to detail and professionalism has been much appreciated.
Thanks so much.
Kind regards
Hi Lawrence
I just wanted to write and let you know that everyone who walks into my apartment goes "wow" when they catch sight of your leadlight fittings.
I remain thrilled with the result – thank you for your attention to detail and great craftsmanship.
Best regards
10/10 for friendliness, timely service and a job well done. Both Lawrence and Mitchell were fantastic. They fixed my granny's China cabinet that I'm very sentimental about and I was a bit nervous.  They did a fabulous job. Extremely professional. I recommend them highly.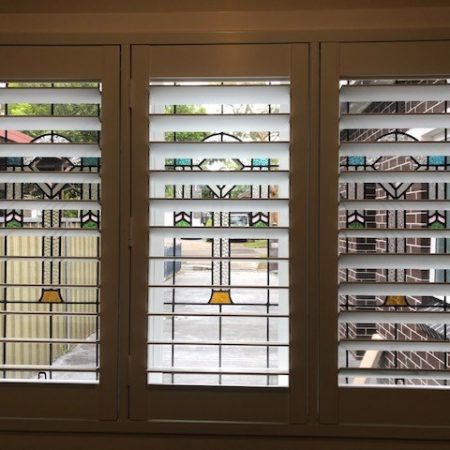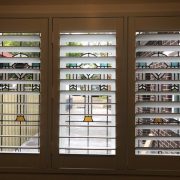 Just wanted to send you a quick email to say thank you very much for the leadlights!  They look amazing and we're really happy we decided to get them restored.
I also wanted to let you know that after a year of renovations, we've had many tradies come and go.  You and Mitch were just a delight to deal with.  You were both pleasant, turned up when you said you would (on time) and tidied up after yourselves.  I know this sounds like common courtesy but I have no idea where it has gone these days!?  I cannot fault anything with your service and I felt the need to let you know – because who doesn't like to get positive feedback hey!?  I'm on a few renovating forums (where I received your details) and I certainly won't hesitate to pass on my own experience and recommendation to others.
Thanks again and have a lovely Christmas.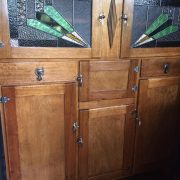 Just thought you & your team would like to see the finished result of our kitchen dresser restoration.
We were absolutely delighted with the leadlight work you guys provided, so much so we thought that we'd send you a picture of the finished product.
Thank you all again for the absolute care & expert work you provided.